The Most Famous Strains in Hip-Hop
---
Marijuana culture and Hip-Hop culture are close cousins, or half-siblings at least.
Marijuana is one aspect of Hip-Hop culture and vice versa. Weed strains, devices and products get shouted out in virtually every other rap song created. I wrote this blog in honour of two things that I love most in this world: beats and blunts. That being said, here are the five most famous weed strains in Hip-Hop.
BLUEBERRY YUM YUM
"Got a little bit of Blueberry Yum Yum, and I never would of thought that it could taste this good…" – Ludacris
We have all heard this song, and we've all sought out nugs of the infamous Blueberry Yum Yum, just to be able to say: "I have tried it". The THC levels of Blueberry Yum Yum average at 15%, which is mild by today's standards, but that's not why old heads like myself love the herb. In the year 2000, it won the High Times Cannabis Cup, back when that really meant something and was revered as an accolade. Ever since Ludacris name dropped Blueberry Yum Yum in the song of the same name, rappers around the world have been doing the same and enjoying the strain.
Bluberry Yum Yum can be found in Cake by Cake & Caviar, it's a 3.5 jar that rotates between their 3 strains, and one of them is Blueberry Yum Yum! You can also find Blueberry Yum Yum in their pre-roll taster pack.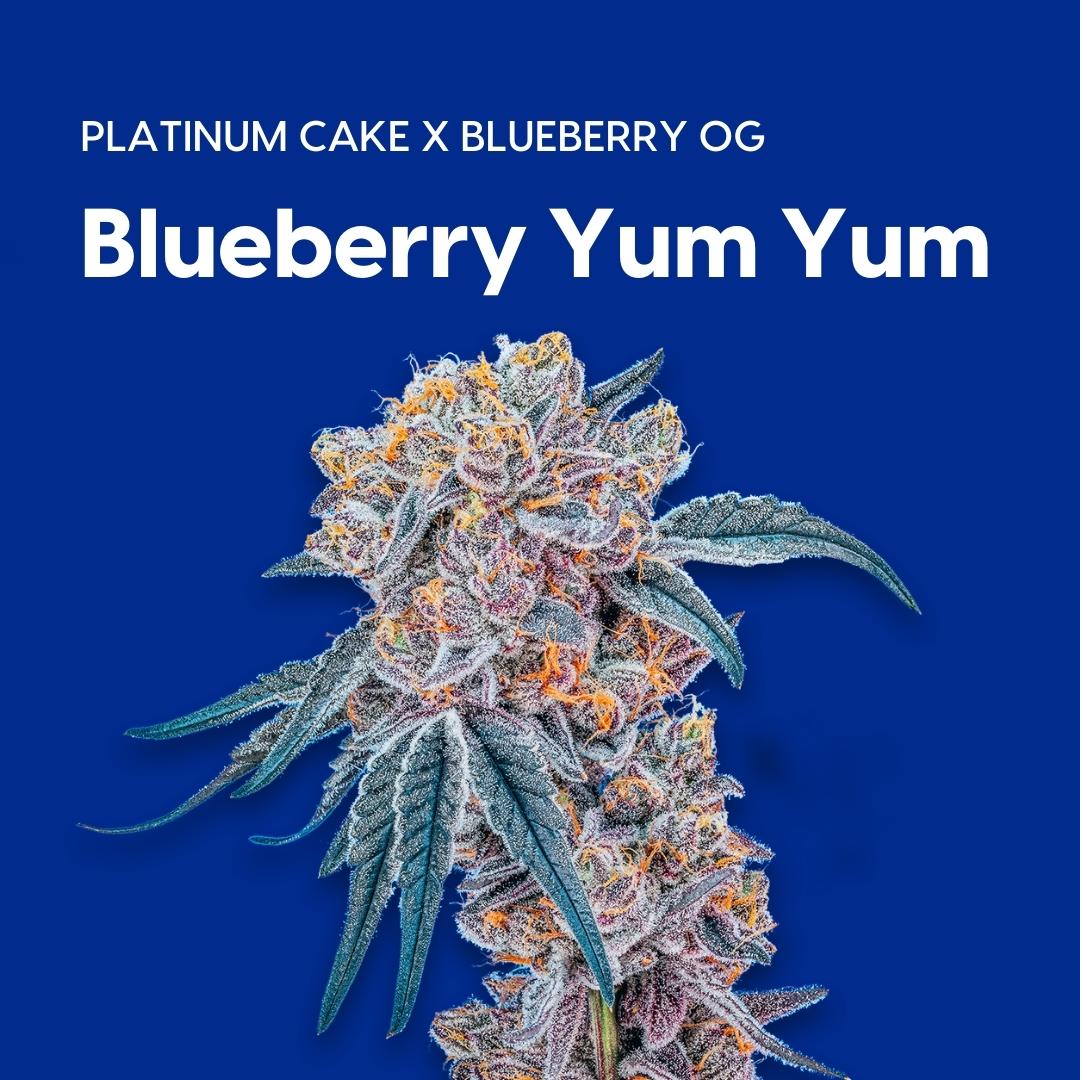 SOUR DIESEL
"I wake up smoke a diesel, go to sleep smoke a diesel; Change my name to Sour and my last name Diesel…" – N.O.R.E.
Made popular in the 1990s, Sour Diesel has been smoked and rapped about by legendary west coast groups like N.W.A. and Cypress Hill. Sour Diesel gets its name because of its intense aroma. This stuff was "gas" before anybody called it "gas", you feel me? Diesel has been one of the most popular strains among the Hip-Hop community for decades now, and at a solid 19% THC, it likely won't become any less popular in the foreseeable future.
Luckily this classic strain is really easy to get your hands on still! There's tons of sour diesels crosses, and products available.
GELATO
"In the club standing on top of shit and smoking Gelato…" – Young Dolph
Gelato became majorly popular five or six years ago, with Memphis rappers Young Dolph and Key Glock to thank for that. The strain got its name because Gelato nugs look frosty and smell citrusy. On the higher end, Gelato clocks in at 19.5% THC, and this is why it's become a studio favorite in the Hip-Hop community. Although Gelato is somewhat of a newer herb, as far as it being shouted out in rap verses, it has quickly become a staple among emcees.
With Gelato being so popular nowadays, there's so many options of gelato on the market. Lately, my favourite has been the LOT420 Gelato #33 Pre-Roll.
BLUE DREAM
"Got a little bit of that Blue Dream mixed up in there 'cause I like variety…" – Redman
Originating on the West Coast, and weighing in at a whopping 22% THC per gram, Blue Dream is a popular strain among emcee's and their fans alike. Ironically, Blue Dream is famously enjoyed by east coast rap icon Redman. The strain does have its detractors, with New Orleans rap veteran Curren$y stating recently that he has a distaste for Blue Dream, but I digress. Whichever side of the aisle you sit on, Blue Dream is definitely popular, and that likely won't ever change.
If you want to try a true Blue Dream and like organic bud you need to check out Simply Bare's Blue Dream.
KUSH
"What he smokin' on? Shit, kush 'til my mind gone…" – Snoop Dogg
Now I know what you're thinking: "which strain of Kush?", or "other strains listed are a hybrid of Kush, blah blah". Well, you're right. But that doesn't change the fact that in general, Kush is the most popular type of marijuana in music, regardless of the strain. Period. OG, Grandaddy Purple, Bubba, Grape, Girl Scout Cookies, there are so many delicious and delectable types of Kush that they could have filled this entire list. Even newer strains like Khalifa Kush have quickly become immensely popular among the Hip-Hop community. Whatever kind of Kush is your favourite, it will forever continue to be written in rap lyrics until the end of time.
Pay respect to the west coast legends like Snoop and Dre by smoking MTL Cannabis' , West Coast Kush.